Trails + parks
Extending 10+ miles through the community, the trails of Harmony are where you can turn up the volume—on your run times, your biking, your nature walks. For this Opening Act phase of our community, you'll find inspiring, shaded places to wander, on our initial four trails: Six String Trail, Riffs Trail, Chops Trail, and Headliner Trail.
THE IMPROV
One of our most expressive open spaces, The Improv brings an amphitheater and wildly 'grammable public art to the community of Harmony. Plus, play areas for kids and teens go way beyond cookie-cutter jungle gyms—instead, you'll find whimsical slides custom built right into the landscape.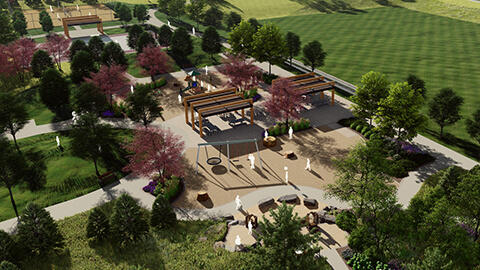 MASHUP PARK
Let's hang
Let's stay in touch
Thinking about a new home? Or…almost thinking about a new home? Keep up with what's happening in Harmony. Get updates and sneak peeks, and invitations to events. (Realtors also welcome!) We promise to only reach out when it's important.